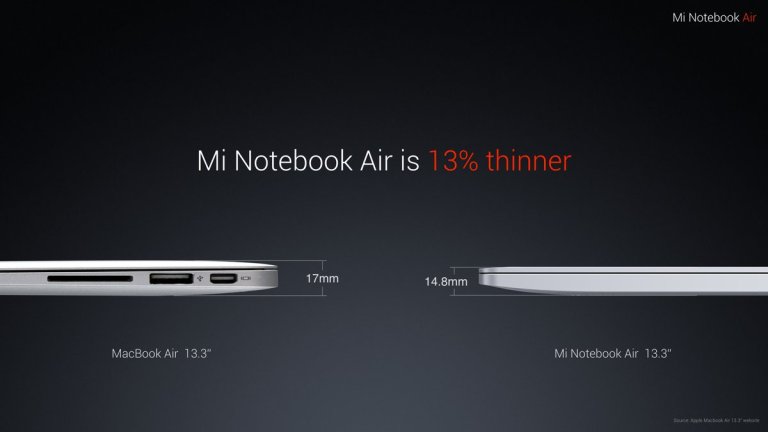 Xiaomi one of the China's leading tech company has been quite active recently. Earlier it announced it's new smartphone device the Redmi Pro and now it is ready to launch it's first-ever laptop which might be a rival to one of the product (Macbook Air) of the world's leading tech company Apple. Recently at an event Xiaomi's VP Hugo Barra officially confirmed this product of the company.It is clear that Xiaomi wants to take Apple head on with this product and who knows it might also leave Apple behind as this new Mi Notebook Air has all the qualities that would attract a lot of folks.

Mi Notebook Air is thinner,lighter and more powerful than Apple's Macbook Air and the best part is it is not as costly as the latter. Its design is so sleek and sophisticated that it is quite easy to carry anywhere. The Mi Notebook Air comes in two size variants with 12.5- and 13.3 inch displays. Both the designs run on Windows 10 and have a 1080p display with an edge-to-edge slim under-glass bezels with full-metal body and type-C USB charging and two USB slots.The Notebook has a full-sized backlit keyboard.
The 13.3- inch model has an Intel Core i5-6200U processor clocked at 2.3GHz (with Turbo Boost to 2.7GHz), 8GB of DDR4 RAM, 256GB of solid-state storage, and a battery that lasts around 9.5 hours. Its aluminum unibody measures just 14.8mm thick and weighs just 1.28kg, making it thinner and lighter than the MacBook Air (at its fattest edge).It is also equipped with an NVIDIA GeForce 940MX graphics chip with 1GB of DDR5 RAM. The company claims that you will also be able to play games on the Mi Notebook Air though with minimum settings.The 13.3-inch model is priced at $750.
The other variant with 12.5-inch display is slimmer with 12.9mm and it is even lighter at 1.07kg .It carries a weaker Intel Core M3 processor, just 4GB of RAM, and just 128GB of solid-state storage. It doesn't have the graphics chip, either — but it starts at just about $520. Both machines have Windows 10, Full HD displays, USB-C and HDMI connectivity, headphone jacks, 1-megapixel webcams, and backlit keyboards. They will be available in gold and silver when they make their debut in China on August 2.
Xiaomi hasn't announced any plans for international availability yet, but like a lot of its products, the Mi Notebook Air will probably remain exclusive to Asia. That means you'll have to import one, or pick one up from a third-party on Amazon or eBay.